Roll over image to zoom in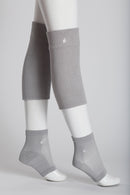 Description
Each R2R Sleeve Gift Set is made using 8 recycled plastic polyethylene terephthalate (PET) bottles through DA.AI's innovative plastic reclamation process.
This three-piece sleeve set features knit elbow, knee, and ankle warmers crafted from DA.AI Technology's Recycle-to-Recycle (R2R) closed-loop recycled material — one of the few 100% post-consumer yarns on the market.
Soft knit sleeve set made from R2R closed-loop recycled material created using DA.AI's plastic reclamation processes.

Excellent for keeping warm in brisk weather. 

Features a mesh which releases far infrared negative ions, which are known to support a variety of health benefits.

Light compression helps cushion joints while remaining breathable to avoid excessive heat build-up.

Utilizes lycra for enhanced stretchability, superior durability, and resistance to loosening over time.
Fabric: 60% Polyester (DA.AI R2R closed loop) 17% Polyacrylonitrile 23% Lycra
Made in Taiwan
Size:

Knee Sleeve 11.8" × 5.1"
Elbow Sleeve 7.1" × 3.9"
Ankle Sleeve 7.1" × 3.1"
Maximum Efficiency
Resources Saved as Compared to Conventional Methods: 

Water (fl oz): 710

Fossil Fuel (fl oz): 4

Carbon Dioxide (g): 504
Each R2R Sleeve Gift Set is made using eight recycled plastic polyethylene terephthalate (PET) bottles through DA.AI's innovative plastic reclamation process
Care instructions
Hand Wash Cold

Do Not Dry Clean

Do Not Bleach

Do Not Tumble Dry

Do Not Iron

Hang Dry
DA.AI Recycle To Recycle (R2R) Series
DA.AI has been dedicated to world sustainability since its establishment over a decade ago in 2008. With its eco-products crafted from recycled PET plastic bottles, the company helps to avoid potential environmental crises, as well as the burning and burying of unrecycled PET products. DA.AI has now additionally set out to solve the growing problem of discarded and left-over clothing. 
Following the patenting of DA.AI's Recycle-To-Recycle® (R2R®) Series in Taiwan, the company officially shifted from a "waste reduction" green brand to a "zero waste" green global role model.
Eco-Innovation with Built-In Compassion
All proceeds from your purchase of DA.AI Technology products will directly benefit the Buddhist Tzu Chi Foundation's charitable efforts globally.
Mission
DA.AI Technology is inspired by the clarion call of the international humanitarian organization, Tzu Chi, to improve our treatment of the Earth. DA.AI's mission goes beyond recycling unwanted plastic PET materials. Just like our DA.AI Tech yarn, we've established a process that is deeply interwoven with love, from resource reclamation, to creating exceptional products, sparking greater social responsibility. When you purchase DA.AI products, you are not just becoming a customer — you are becoming part of something much larger. We hope our philosophy, hard work, and eco-friendly products will also inspire more people to embrace a lifestyle that is in harmony with the Earth and all sentient beings.
Shipping and Returns
Order Processing
Most orders are shipped within 3-7 business days after completed payment. 
Shipping Methods
We ship orders to the United States addresses only.

Our standard Shipment can be either USPS first class or any other service that the shipping department considers most effective at the time of shipping the order.  

If the package(s) is returned to us due to an address error made by the customer or the customer refuses the package, the customer will be responsible for the shipping cost for the return of the package.
Returns
All purchases made on DA.AI have a 30-day no-questions-asked return period from the date of delivery. If 30 days have gone by, and the item is still under warranty, please contact our customer care staff regarding the warranty process for your item.
Late or missing refunds
It may take some time for banks or credit card companies to process refunds, so please do wait a few days for the refund to appear. If the refund does not appear as expected, do contact your bank or credit card company to check. If you've done all of the above and still have not received your refund, please contact us at daaitechnology@tzuchi.us
Payment & Security
Your payment information is processed securely. We do not store credit card details nor have access to your credit card information.